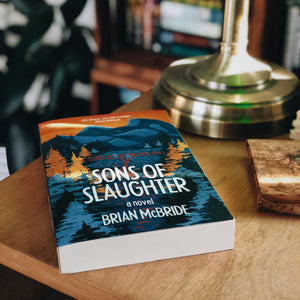 Sons of Slaughter | a novel
Regular price
$15.00
$0.00
Unit price
per
Tax included.
Addictively gritty, abrasively honest, and utterly compelling, Sons of Slaughter is perfect for fans of Looking for Alaska by John Green, Slaughterhouse Five by Kurt Vonnegut, and Challenger Deep by Neal Shusterman.

It's 1994 in the small town of Clatskanie, Oregon. In a struggle to escape the grasp of his stepfather, a violent drunk, Beck stumbles upon his late grandfather's cabin abandoned in the woods. With his best friend, Dean - just released from his stay at a mental hospital after his failed suicide attempt - Beck sets out to repair it.

Defiant Beck has always been a daydreamer. For years, his only escape from his stepfather's torment was a world he created for himself in his mind. But little by little the lines between the two worlds begin to blur until soon he becomes convinced that the world in which he is Beck isn't the real world at all.

Quiet Dean never meant to get his girlfriend pregnant, but despite threats made by his former gang, the West Coast Howlers, he's more determined than ever to create a life for himself, Emilia, and their unborn child. Dean, usually the one who doesn't control anything, soon finds himself at the epicenter of a storm that threatens the lives of those he loves most.

With explosively vivid and startlingly sharp prose, Sons of Slaughter forms a compelling narrative about the battlefield that lies both within us and around us, and what it means to fight – and bleed – for the ones we love.
---
Share this Product
---